Leading the younger generation from dawn to dusk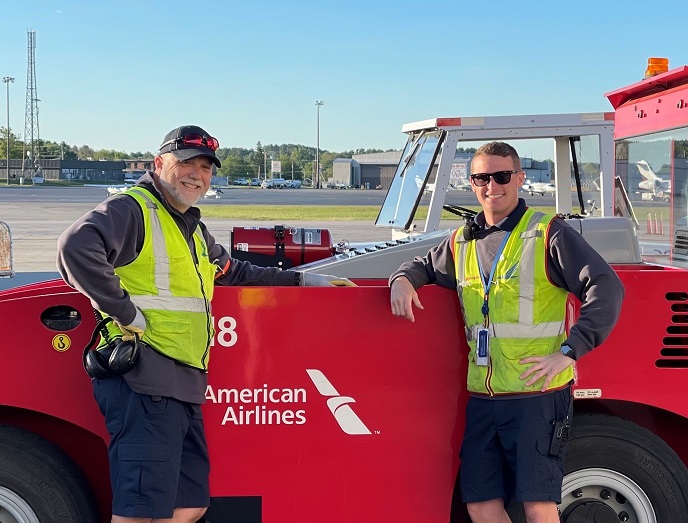 Eric Conway, a former teacher and part-time Ramp Agent in Bangor, Maine (BGR), starts his day by working the departing flights before beginning his full-time job as a trainer at a bank. Whether working with his fellow agents on the ramp or training new hires at the bank, Eric takes pride in mentoring the younger generation on their career journey.
Eric is a firm believer in leading by example and emphasizing the importance of safety and having a good work ethic. "I want our younger agents to feel like they have a place here at Piedmont and contribute to the station's success," says Eric. "The younger generation is the future of the company."
After obtaining his bachelor's degree in Physical Education from the University of Maine, Eric worked as an athletic director for a middle and high school. A few years later, he decided to try teaching in a different environment and joined the Bangor Savings Bank as a trainer in their Training and Development department. Six years ago, Eric was also working a part-time cleaning job at the airport when he met a former Piedmont General Manager who shared with him that he could work the same hours as he was in his cleaning job and have flight benefits as a ramp agent. The flight benefits sounded like something he would enjoy, and he joined Piedmont as a part-time ramp agent in 2016.
"I love my job on the ramp," shares Eric. He says his background in teaching and communication helps him better communicate with his colleagues on the ramp. "I feel like sometimes the younger generation gets a bad reputation for not doing what they are supposed to and sometimes it's because they don't know how. If I can show them what to do, it helps ease their frustration and makes everyone's job easier."
"Eric does a fantastic job discussing the morning operation and roles of each agent during the morning huddle with the ramp team," shares Beth Martin, BGR General Manager.  "I have heard agents say he is a great leader at training them on the morning routine. Eric is the go-to person that my management team can count on to get our Right Start flights out on time."
A married father of three, Eric has actively volunteered at his local church as a youth group leader and attended mission trips with his family. When his children were growing up, he coached many of their sports teams and now that his youngest child has left for college, Eric organizes fundraising events as the bank's United Way campaign coordinator. He is proud to share they raised over $100,000 last year.
When he isn't working or volunteering, Eric enjoys traveling with his family using Piedmont's travel benefits, especially to visit his son in college. "I've been able to visit places we would've never seen otherwise and made so many wonderful memories with my family thanks to the flight benefits."
Eric looks forward to continuing to mentor agents at his station to be their best.
Thank you, Eric and all our Piedmont fathers who are making a difference in the lives of the younger generation. Happy Father's Day!