Stabilize your career with top pay and a guaranteed seat at American Airlines. Piedmont continues to hire qualified pilots for first officer positions. Apply through Airlines.Apps.com.
Not enough hours to apply? Get paid to build time with Piedmont's flexible Cadet Program.
Apply Now
Piedmont offers the Fastest Path to American Airlines
With a guaranteed job at American Airlines waiting, no regional airline gets pilots to a major airline faster. In about five years, Piedmont pilots transition to the world's largest airline, all while taking home the industry-leading pay rate for first officers. Talk to a recruiter to learn how you can guarantee your seat at American.
Earn your Stripes Quickly
At Piedmont, you may start as a first officer, but that doesn't mean you'll stay in the right seat longer than you need to. Before your guaranteed job at American, Piedmont pilots have the opportunity to become captains in 12-15 months, which increases your pay. It's even sooner for pilots with Part 121 experience.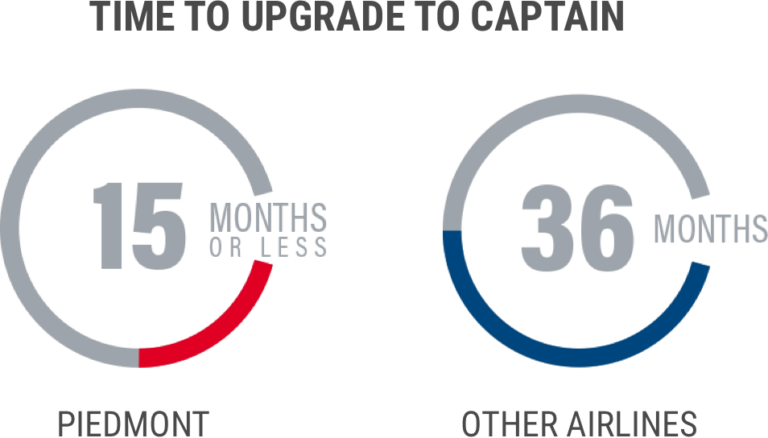 Pay & Benefits

First Officer Compensation
$50.50/hour (April 1, 2020)
First year pay for First Officers
75 hours/month
Guaranteed
$18,000 Signing Bonus
Ask a recruiter for more information

Upgrade to Captain
$76.76/hour
Year one Captain
$78.63/hour
Year two Captain
After 2,500 total hours and 1,000 Part 121 hours, bid for captain

Time off
11 days off per month guaranteed minimum
42 hours paid sick leave per year
5 paid vacation days in your first year
10 paid vacation days in your second year

Travel for Free
Ready to explore the world? You, your immediate family and your friends can reach 365 destinations on more than 6,800 daily flights across the American Airlines global network.

Insurance and Retirement
High quality health insurance is best in the industry
PPO covers doctor visits, hospitalization, prescriptions and vision
Dental coverage includes no-cost preventative care
Life and disability insurance provided at no cost to you
401(k) plan through Fidelity, with a company match

Additional Benefits
Commuters receive two free hotel rooms per month
Training at the American Airlines Training Center in CLT
100 percent trip cancellation and dead head pay
Triple premium pay available for flying on scheduled days off
Bid on crew base assignments based on vacancies and seniority
Hub bases: Philadelphia (PHL) or Charlotte (CLT)
Apply Now
Crew Bases
Charlotte, NC
Two hours from the mountains, three to the coast, Charlotte has it all. Hiking, biking, rafting and the mild year-round climate to enjoy it. Fly Embraer jets from CLT, American's largest East Coast hub, and build your career in a vibrant city that's growing but still small enough to retain its Southern charm that always says hello.
Philadelphia, PA
Piedmont's prime location and growing Philadelphia hub offer pilots another great situation. You'll challenge your skills with East Coast takeoffs and landings. You'll live where everything's within reach. Operate within easy distance of all that makes the East great – dynamic cities, rich culture, live sports, top dining, the beach and mighty Atlantic. Position your career, your life – in the center of it all.
Paths to the Cockpit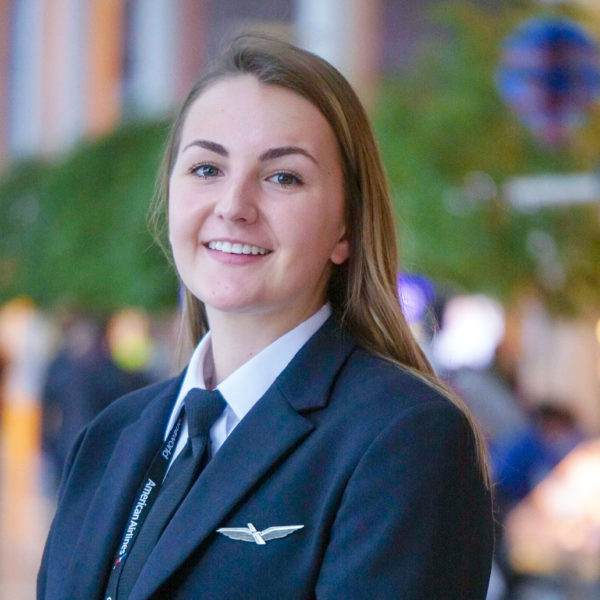 Apply as First Officer
Join Piedmont and start your journey toward American while enjoying the regional industry's highest wages and a competitive benefits package.
Minimum Qualifications
Holds an ATP or RATP certificate with a multi engine rating
1,500 hours of flight time, 50 hours of multi-engine time, 250 hours as Pilot in Command or meet requirements for Restricted ATP
Valid United States passport or a valid passport with authorization to work in the United States
FCC Radiotelephone Operator Permit
Current First Class Medical Certificate
Possess a high school diploma or GED
Preferred Qualifications:
College degree from an accredited school
Current employment in a pilot position
Learn More
Apply Now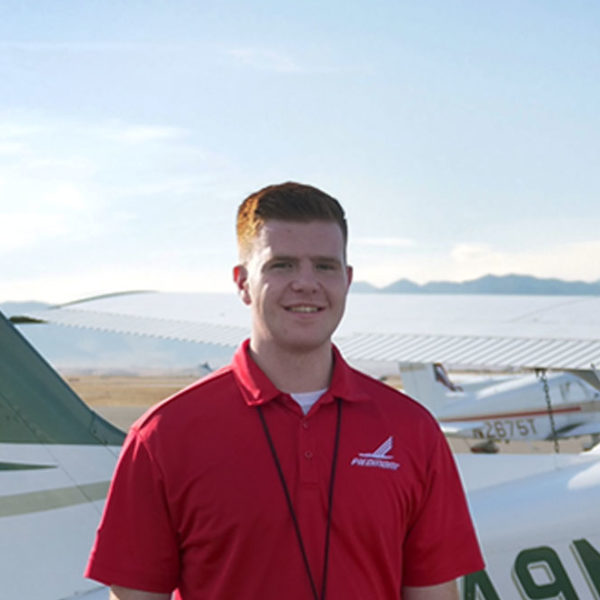 Train as a Cadet
Pilots with 400 hours TT can apply to Piedmont's flexible cadet program and receive $25,500 in bonuses to help build hours. Our cadets do not have to be affiliated with a partner school, and may build hours where and how they choose. Cadets receive full access to flight benefits on American Airlines.
Learn More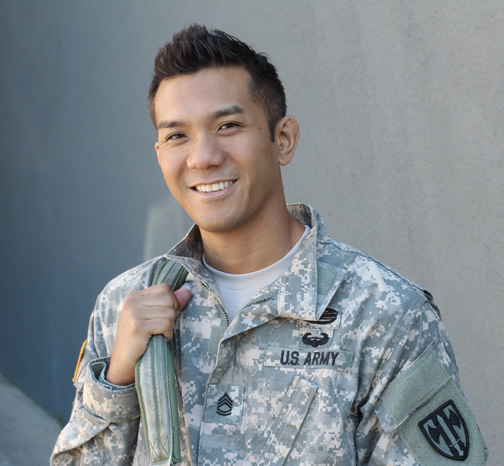 Transition from Military
Let Piedmont help you make the transition to a rewarding civilian career. We'll help you complete the training you need to fly for Piedmont and American Airlines.
Learn More
Learn More
Questions about applying? We'd love to hear from you. Contact a recruiter to learn more about the application process and get a personal guide to joining the Piedmont team. Or visit us at any of our upcoming recruiting events to meet members of our team.
Apply Online
To apply for Pilot, Cadet or Military Transition positions, please apply online through AirlinesApps.com:
Apply Now