Secure your future. Pilots who choose Piedmont can earn over $180,000 in bonuses. Those with qualifying experience can join Piedmont as Direct Entry Captains and earn up to $187,500 in bonuses. No matter where you are in your journey, Piedmont has a place for you. Learn what it takes to be a part of the team below.
Apply Now
Piedmont offers the Fastest Path to American Airlines
Pilots awarded a position with Piedmont Airlines have a guaranteed job at American Airlines under a company "flow" program. You will train at the American Airlines Flight Training Center in Charlotte, North Carolina and flow to American in seniority order. No regional airline gets pilots to a major airline faster. Talk to a recruiter to learn how you can guarantee your seat at American.
Piedmont Airlines' Elevate Pilot Careers Program
Pilots who choose to join Piedmont Airlines' exceptional aviation team can earn over $180,000 in bonuses as part of an unprecedented recruitment and retention package. Learn more about the program here.
Earn your Stripes Quickly
At Piedmont, you may start as a first officer, but that doesn't mean you'll stay in the right seat longer than you need to. Before your guaranteed job at American, Piedmont pilots have the opportunity to become captains in 12-15 months, which increases your pay. It's even sooner for pilots with Part 121 experience.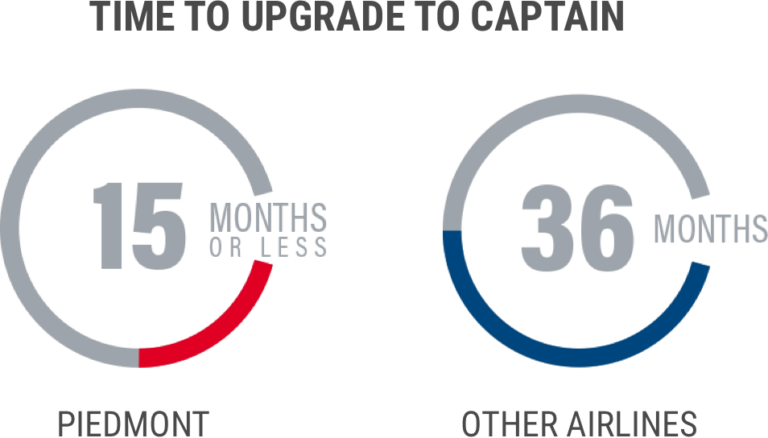 Pay & Benefits

First Officer Compensation
$51.52/hour (April 1, 2022)
First year pay for First Officers
75 hours/month
Guaranteed

Upgrade to Captain
$86.13/hour (April 1, 2022)
Year one Captain
$88.23/hour (May 1, 2022)
Year two Captain
After 2,500 total hours and 1,000 Part 121 hours, bid for captain

Time off
11 days off per month guaranteed minimum
42 hours paid sick leave per year
5 paid vacation days in your first year
10 paid vacation days in your second year

Travel for Free
Ready to explore the world? You, your immediate family and your friends can reach 365 destinations on more than 6,800 daily flights across the American Airlines global network.

Insurance and Retirement
High quality health insurance is best in the industry
PPO covers doctor visits, hospitalization, prescriptions and vision
Dental coverage includes no-cost preventative care
Life and disability insurance provided at no cost to you
401(k) plan through Fidelity, with a company match

Additional Benefits
Commuters receive two free hotel rooms per month
Training at the American Airlines Training Center in CLT
100 percent trip cancellation and dead head pay
Bid on crew base assignments based on vacancies and seniority
Hub bases: Philadelphia (PHL) or Charlotte (CLT)
Crew Bases
Charlotte, NC
Two hours from the mountains, three to the coast, Charlotte has it all. Hiking, biking, rafting and the mild year-round climate to enjoy it. Fly Embraer jets from CLT, American's largest East Coast hub, and build your career in a vibrant city that's growing but still small enough to retain its Southern charm that always says hello.
Philadelphia, PA
Piedmont's prime location and growing Philadelphia hub offer pilots another great situation. You'll challenge your skills with East Coast takeoffs and landings. You'll live where everything's within reach. Operate within easy distance of all that makes the East great – dynamic cities, rich culture, live sports, top dining, the beach and mighty Atlantic. Position your career, your life – in the center of it all.
Harrisburg, PA
Coming soon in May 2022
US News and World Report ranked Harrisburg, the state capitol of Pennsylvania, as the #1 Best Place to Live in Pennsylvania. Located along the banks of the Susquehanna River, Harrisburg is an eclectic mix of wilderness and city life, as well as the old and the new, making it a perfect destination for your pilot career. From hiking trails and outdoor recreational activities for the outdoor enthusiast to living within a few hours' drive from major cities like New York City, Philadelphia, Baltimore and Washington, D.C., Harrisburg has something for everyone.
Learn More
Questions? We'd love to hear from you. Contact a recruiter to learn more about the application process and get a personal guide to joining the Piedmont team. Or visit us at any of our upcoming recruiting events to meet members of our team.